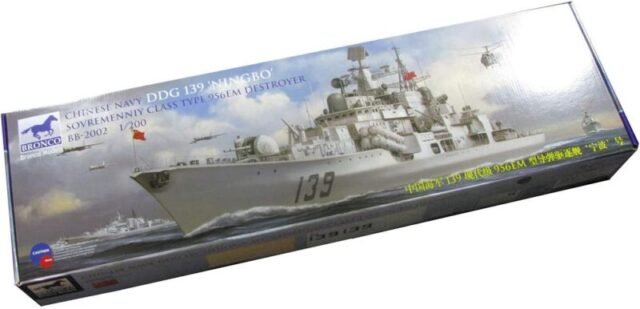 Brand: Bronco
Age Range (Description): Adult
Theme: Military
Material: Plastic
Seasons: All Seasons
Included Components: Military Figure
Item Weight: 1.15 Kilograms

Bronco has created an excellent and comprehensive model kit called Chinese Navy DDG 138 'Taizhou' Sovremenniy Class Type 956EM Destroyer 1:200 Scale Military Model Kit. It is an exact depiction of the Sovremenniy Class Type 956EM destroyer, which is known as the DDG 138 Taizhou in the Chinese Navy.

This model kit is constructed out of high-quality plastic and has components that are both intricately detailed and simple to put together. A realistic hull design is featured, complete with anti-aircraft guns and armaments located on the stern. Its bridge, decks, and turrets are all carefully molded with great detail because to the attention to precision. There are additional photo-etched components included in the set, such as the windows, railings, and ladders on the bridge.

The directions are written in a way that is straightforward to understand and simple to carry out. The individual components are labeled in a way that is easy to understand, and the assembling procedure is not complicated. The model may be painted using a diverse selection of colors with ease, and additional customization can be accomplished with decals and other detailing materials.

Overall, the Bronco Chinese Navy DDG 138 Taizhou Sovremenniy Class Type 956EM Destroyer 1:200 Scale Military Model Kit is a fantastic model for any collector or hobbyist seeking a high-quality military model. This model comes in a 1:200 scale and features a destroyer in the modern Sovremenniy class. It has a lot of little details, putting it together is fun, and it looks amazing once it's painted. It is an excellent option for model collectors who are interested in enhancing the breadth and realism of their existing collections.
Bronco Chinese Navy DDG 138 'Taizhou' Sovremenniy Class Type 956EM Destroyer 1:200 Scale Military Model Kit
∼$146.16